Sections/Links:
Club Leadership Team
Chrysler 300 Consultants
Chrysler 300 Information
and Photos
News and Pictures
From Past Meets
and Events
Technical Information
New articles
Want to meet and investigate the finest Big Brutes in the American Automobile experience? Come and visit the 46th Chrysler 300 Club, Inc. Meet to be held in San Diego. Details and registration can be found below. A Grand Event is planned and all are welcome. This is the one show you would not want to miss if you have a flair for the finest automobiles ever to come out of Detroit.

If you own a Chrysler 300 of any year come on down and enjoy the Meet.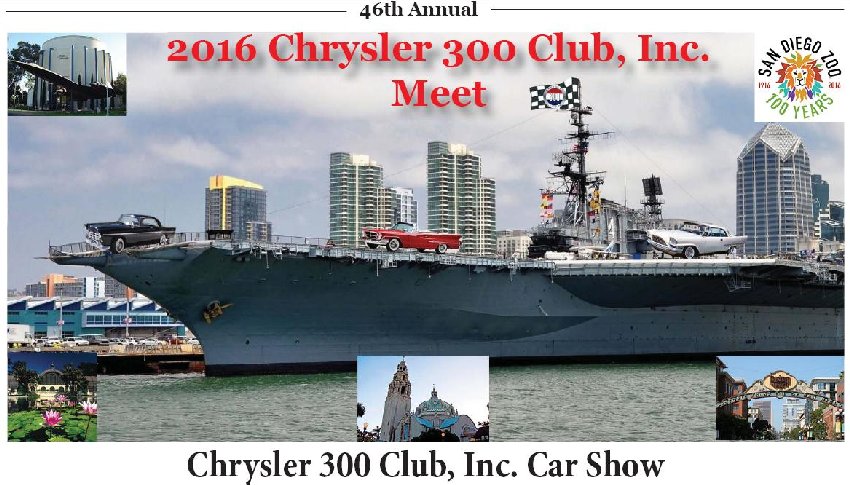 SAN DIEGO, CALIFORNIA

SEPTEMBER 21 - 25, 2016

Hosts, Rene & George Ver Berkmoes 619-749-7242 or zzub@cox.net

SCHEDULE OF EVENTS

Wednesday, September 21
Registration 11:00AM to 6:00PM in Hospitality Room
Check activities board for no-host dinner plans

Thursday, September 22
Late registration 8:00 AM to 10:00 AM
Depart for John Ellison's private collection and lunch at Phil's BBQ 10:00 AM
Check activities board for no-host dinner plans

2:30 depart to tour of Gary Nelson's (The Parts Doc) new shop and garage. I am located a short hop (Escondido), north down the 15 freeway from San Diego. Fortunately, travel will be against traffic flow both directions. My wife (Linda), and I would like to welcome anyone that would like to stop by. Linda always puts out plenty of goodies to eat and drink like, ribs, baked beans, cheese crackers, fruit, etc., beer, wine and soft drinks to wash it all down. I would venture to say you could skip dinner.

Any and all are WELCOME, shoot me email garythepartsdoc@glnelson.com or call 760.751.1958 to let me know if you can make it so I can get head count. Bring your spouses, girl friends and others. Some can car pool.

Friday, September 23
Business meeting 8:00 AM to 9:00 AM
Depart for San Diego Automotive Museum 9:30 AM
Lunch at the Prado Restaurant in Balboa Park 12:00 PM
Afternoon off to enjoy San Diego attractions
Check activities board for no-host dinner plans
Auction (bring your car related items) Hospitality Room 8:00 PM

Saturday, September 24
Car show, Seaport Village Embarcadero North, 10:00 AM to 2:00 PM
Awards Banquet, Handlery Hotel, 6:00 PM

Sunday, September 25
Meet at Hospitality Suite to say goodbyes to old friends and new friends 8:00 AM

Directions
From Interstate 8 East take Exit 3 Hotel Circle, follow signs to Hotel Circle North, go over freeway and turn right onto Hotel Circle North and proceed to Handlery Hotel on the left.

From Interstate 8 West take Exit 4B, at stop sign proceed straight into Handlery Hotel.

2016 Registration Form (DOC Format)

2016 Registration Form (PDF Format)

Easy just fill in the form and follow the mailing instructions.

Handlery Hotel - San Diego Services and Amenities"