Go Back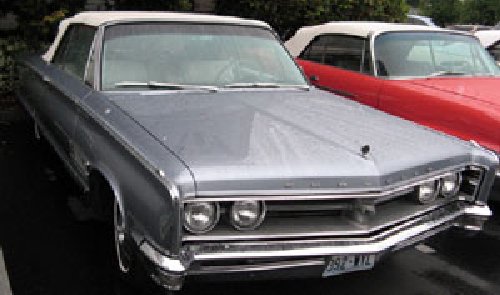 >
1966 Chrysler, 300 Sport Series
300 SERIES - (V-8) - A star-shaped emblem continued to be used on the blacked out grille bars as on the previous Chrysler 300 Series. Headlamps were set within the outlined grille and were covered by a unique glass shield. Lower body trim differed from the letter Series 300, as it had three uniquely stamped imprints at the forward edge of the trim, behind the wheelhouse opening. The interiors of the non-letter 300 Series were upgraded over the Newport versions. The four-door sedan found in the 300 Series was the six-window version.
300 SERIES I.D. NUMBERS: Serial Numbers followed the changes outlined under the Newport Series. Serial Numbers continued to be located on the left door hinge post. Serial Numbers for Detroit built cars began with C253-100001 and up. Delaware built cars began with C256-100001 and up. Chrysler 300s with the standard 383 cubic inch V-8 had Motor Numbers with an A-383 prefix located on the front, right hand side of the engine block. Chrysler 300s with the optional 413 cubic inch V-8 had Motor Numbers with an A-413 prefix located on the top of the block, to the left of the water PUMP.
300 SERIES ENGINES
V-8. Overhead valves. Cast iron block. Displacement: 383 cubic inches. Bore and stroke: 4.25 x 3.375 inches. Compression ratio: 10.0:1. Brake horsepower: 315 at 4400 R.P.M. Five main bearings. Hydraulic valve lifters. Carburetor: Carter Type AFB four-barrel Model 3855S.
| | | | | | | |
| --- | --- | --- | --- | --- | --- | --- |
| Year | Body/Style Number | Body Type/Seating | Model No. | Price | Wt Lbs | Production |
| 1965 | C22 | 2-Dr Ht Cpe - 5P | AC2-M | $3894 | 4115 | 11,621 |
| 1965 | C24 | 4-Dr Ht Sedan - 5P | AC2-M | $4061 | 4210 | 12,452 |
| 1965 | C25 | 2-Dr Conv Cpe - 5P | AC2-M | $4344 | 4185 | 1418 |
| 1965 | C28 | 4-Dr Sedan - 6P | AC2-M | $4056 | 4160 | 2187 |