1964 - 300K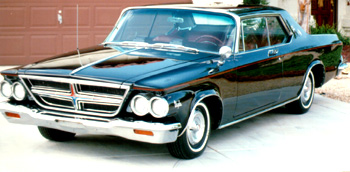 Year
Body/Style No.
Model No.
VIN
cid
bhp/rpm
Torque
lifters
heads
1964
1964
842/2 dr HT cpe-4p
845/2 dr Conv Cpe-4p
VC2-M300
VC2-M300
8443
8443
413
413
360/4800
360/4800
470/3200
470/3200
Hydr..
Hydr.
Wedge
Wedge
CR
Induction
Axle Ratio
WB in.
Wt lbs
bhp/ci
lbs/bhp
Price
Production
10.0:1
10.0:1
1-4 bbl
1-4 bbl
3.23:1
3.23:1
122
122
3,965
3,990
.871
.871
11.0
11.0
$4,228
$4,694
3022
625
Click Here For Consultant List


300K SERIES - (V-8) - The convertible returned to the letter series 300 lineup after a one year hiatus. Styling paralleled the regular 300 series, although interiors were more luxuriously detailed. A between-the-seat console was standard and leather trim was optional. A ram-induction manifold setup was available as an option.

300K SERIES I.D. NUMBERS: Serial Numbers were located as on previous series. Serial Numbers began with 8443-100001 and up. Engine Numbers began with V41 and then the date code as before. I 1-1 2 referred to November 12 production date. The letters HP were also stamped on the non-ram 300K cars. Ram inducted cars used a slightlv different system. The prefix was C300K then the complete date followed (i.e. 11-1263).

300K SERIES ENGINE
V-8. Overhead valves. Cast iron block. Displacement- 413.8 cubic inches. Bore and stroke: 4.188 x 3.75 inches. Compression ratio: 10. 1: 1. Brake horsepower 360 at 4800 R.P.M. Five main bearings. Solid valve lifters. Carburetor Carter Type AFB four-barrel Model 3614S.

CHASSIS FEATURES: Wheelbase (all series) 122 inches. Overall length:'-(Newport and VC2-M 300) 215.3 inches; (Newport station wagon) 219.4 inches; (300J and New Yorker) 215.5 inches; (New Yorker station wagon) 219.7 inches. Tires: (Newport, 300, 300K) 8.00 x 14; (New Yorker) 8.50 x 14.

POWERTRAIN OPTIONS: Three-speed manual floor mounted transmission was standard on Newport and nonletter 300. Automatic transmission was standard on New Yorker and 300K. Automatic transmission was optional on Newport and non-letter 300 ($227). Close-ratio four speed manual floor shift was optional ($227): V-8 413 cubic'inch 360 horsepower four-barrel engine on non-letter 300 ($43). V-8 413 cubic inch 390 horsepower dual four-barrel ram-induction engine ($375). NOTE: The ram-induction engine was available in the 300K only. Positive traction rear axle ($52). Available rear axle gear ratios: 3.2 3: 1; 3.9 1: 1; 2.7 6: 1.

CONVENIENCE OPTIONS: Power steering in Newport and 300, standard in other ($108). Power brakes in Newport and 300, standard in other's ($48). Power windows, all models ($108). Six-Way power seat in Newport and New Yorker ($102). Power door locks in four-door styles ($56). Heater and defroster, all models ($102). Air conditioning, all models ($510). DeLuxe dual air conditioning, all except convertibles ($714). Golden Tone radio, all models ($93). AM/FM radio, all models ($157). Golden Touch Tuner radio, all models ($129). Center Console in all 300 models ($129). Leather trim in 300 and 300K ($94). Leather trim in New Yorker Salon ($72). Seat belts, all models ($7). Heavy-duty springs, shocks, swaybar and brakes ($36). Adjustable steering wheel, all models ($47). Undercoating, all models ($18). Tinted glass, all windows ($43).